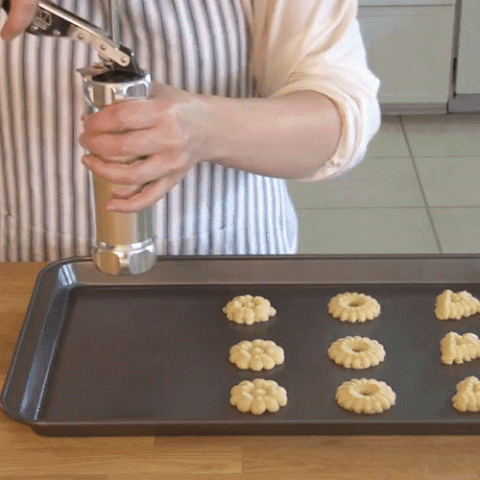 Now you can easily create perfectly shaped biscuits and cookies with this Biscuit & Cookie Maker! Surprise your whole family with yummy and delicious treats that you baked with this amazing tool! 
Making cookies has never been so easy! With the Biscuit & Cookie Maker, you can simply rest it directly on the baking tray and lower the lever to make perfectly shaped cookies. It will save your time and you will fill the whole oven tray with yummy cookies in a matter of minutes.
Whether you are a baking guru or a beginner, you'll definitely want to add a cookie press to your arsenal of cooking supplies! 
Features:
BAKE LIKE A PROFESSIONAL: Make your cookies grain, dairy, and refined sugar-free even with a non-traditional dough, this cookie maker holds up nicely and produces great results in baking

EASY TO USE: Great cookie making tool for home, school parties, ceremony, birthday, Christmas; a must-have for beginner bakers and even giving the cookies away as a gift for your friends.

COMES WITH A CUSTOMIZABLE SET: Provides 20 discs with various shapes and 4 yellow nozzles, pull-out plunger makes it easy for anyone to make, decorate the cookies, dessert or cake tops.
Benefits:
Prepare cookies easily and quickly

Decorate cakes, desserts, sandwiches, canapés, filling doughnuts, etc.

Simple and convenient design to make baking quick and fun

Make thousands of different types of cookies using various types of dough and decorating them according to your personal taste

The ergonomic shape of our Biscuit & Cookie Maker is made of safe food-grade anodized aluminum alloy so that no residue is released onto the dough
Note: 
Package Includes:

1 x Biscuit Machine 
4 x Nozzles 
10 x Molds