ATTENTION: This shirt looks very small. But it is extremely elastic. It must be very tight for the compression effect to work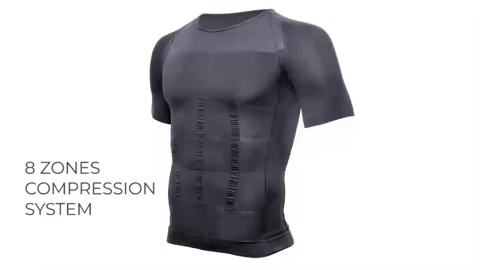 The 4 Core Benefits:
✔ Added comfort and good looks: Our unique compression technology brings out the good part of your body.
✔ Superior back support: It will drastically improve your posture and give you a more confident stance.
✔ Improved circulation & muscle support: It can improve blood circulation and give muscle support. 
✔ Confidence and self-esteem boost: The transformation when you put on a men's shapewear garment is instant: you are immediately slimmer, firmer, and more toned looking. That translates into a self-esteem boost that adds noticeable confidence.
Features:
360° Torso Compression Technology: The unique compression technology brings out the good part of your body.
12 Aps Shaping Area: With that, the shape of your abs will come out nicely and more fitted.
Muscle Micro-Massage Effect: The micro-massage effect accelerates weight loss. Micro massage is the exertion of gentle, constant pressure on your body.
Upper Back Trapezius System: This will drastically improve your body sensation and gives you a more confident body language
Quality material: Our Products are made with the best fabrics to make you look good 
Cultural Acceptance Of Men Wearing Shapewear
Men who think that shapewear is "only for women" are becoming fewer and fewer. While men who understand the benefits of shapewear are increasingly vocal describing how these garments are improving their health, confidence, and quality of life. That´s why we made it our mission to develop the best new garment styles for men and furthermore, support the widespread cultural acceptance of men wearing shapewear.
Shapewear For Real Men

There is a solution that can help men look fitter and slimmer. That solution is shapewear for men. The effect of transformation offered by men's shapewear is mental as much as it is physical.
FAQs:
CAN IT MAKE YOU CRAMPED OR RESTRICTED?
Answer: Absolutely No! The body shape T-shirts are super breathable & lightweight. It disallows bacteria activities on your body, making your body free from germs and body odor.  Now, due to the tissue structure, the fat is no longer an issue, because it will help hide the fat zones to a point at which it can no longer be noticed. You will feel compact and fitted at all times.
CAN IT MAKE ME LOOK SLIMMER?
 Answer: Absolutely yes and yes! With the 360° compression technology, the t-shirt will definitely help you burn out those annoying fats and bring out the good shape in you by magnifying the good part of your body. But what about the Abs area? Don't worry we got that covered as well, the muscle micro-massage technology will ensure that your abs come out nicely and more fitted than usual.
CAN IT HELP CORRECT MY POSTURE AS WELL?
Answer: Absolutely Yes, the shirt will help you correct your posture by targeting the trapezius muscles of the upper back so that your posture can be improved. Amazingly, it will also help control your movements, improve your body sensation and boost your confidence.
CAN I WEAR IT TO SLEEP?
Answer: Definitely, you can wear the cloth to sleep. Amazingly, it will make your sleep pleasurable. It will give you the freedom to breathe & at the same time, it will help tone your body over the night.
HOW LONG CAN I WEAR IT?
Answer: You can wear it as long as you feel comfortable. Our shirt is made to provide maximum comfort to the users at all times. Hence, you can feel free to wear a shirt all day. Just know that our product will give you full comfort for as long as you have it on you.